Philip is an American student who respresents Austria in the Model UN. Answer one or more of his questions in the comments. Make sure you put the NUMBER of the question you are answering and put your class and initials so I know who gets points (1HAS, JS)
1) How do you imagine Austria in fifteen years?
2) What is your opinion of America?
3) What is the best part about Austria?
4) What is the largest social or political issue in your country right now?
5) What is the biggest challenge facing Austrian teens today?
6) Finally, your teacher tells me that Austria is months ahead of the US in fashion. What is in style this summer? I'm looking to get a jump on my friends.
Thank You,
Philip Kiely


Note: The comment will not appear immediately. Keep a copy of your comment in case it gets lost in the cloud!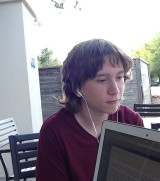 And check out Philip's novella, Zephyr's Crossing on Smashwords
https://www.smashwords.com/books/view/468461
!